I'm participating in a project that is the first public offering of the newly formed Poetry Coalition—twenty-two organizations dedicated to working together to promote the value poets bring to our culture and communities, as well as the important contributions poetry makes in the lives of people of all ages and backgrounds.
Here are my three poems that I've sent out as postcards to fellow Kundiman writers:
After looking at a glittery postcard of Waikiki
But what we don't see
Are the workers
One of my best friends
Organizes.
She makes aunties
Out of housekeepers
And uncles out of
Bellhops.
The colors
Of early morning
Make visible
Tourists' distraction
But we know
The workers are there.
Their jobs, they're told,
Are to make it look like
They're not

On a Postcard is A View From The Sears Tower in Chicago
From up here
we can't see
105 miles away
My Auntie Luz's farm
pictures of her deceased in-laws
And the watchful porcelain dolls
Swaying rocking chairs
In empty salons
Kept me out of the ghost stories I'd created
Kept her from the Philippines.
Kept Ma and I spooning like I was six again
Kept a well-kept house
My auntie refused
To be a kept woman
After her husband called her crazy,
Then Divorced.
She kept the house,
The farm,
Her garden,
Her sanity.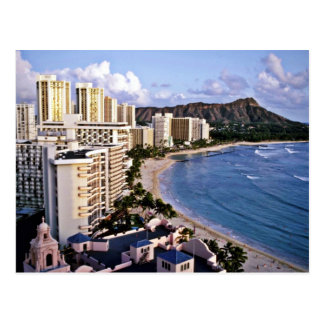 What You See on This Postcard of the Aloha State
These buildings
Mimic Diamond Head
Wishing they could
Kiss the land
Cradle the sun
high-five the sky
Instead they are
Eyesores Penetrating
Making fingernails
Out of the shoreline
Instead they are
White families
Bland barricades
With selective sight
What do you see
And not see
At the same time?